Day continued
---
[ Follow Ups ] [ Post Followup ] [ Yellowstone Up Close and Personal Chat Page Version 1.60 ] [ FAQ ]
---
Posted by Rick (71.72.159.41) on 10:41:02 07/16/14
In Reply to: Day 5 continued posted by Rick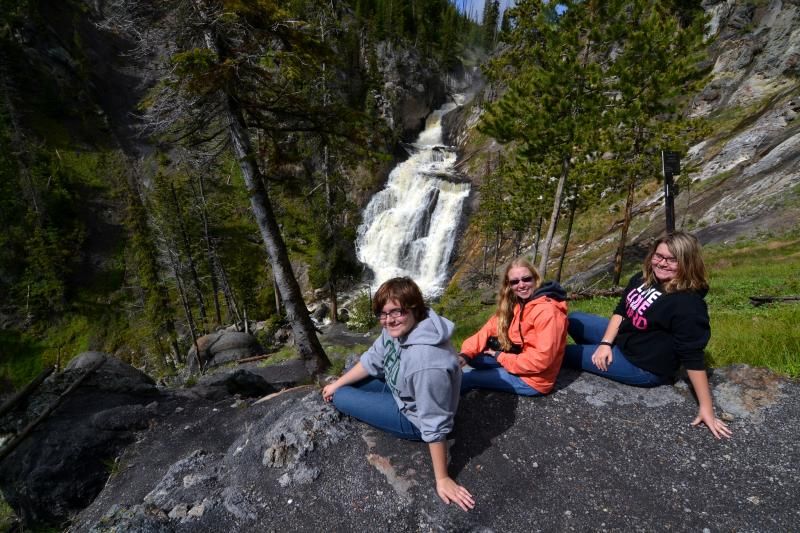 Autumn, Lissa, and Madeline with Mystic Falls.

Back at the parking area, I decided to keep heading around the lower loop road. I was planning to stop and spend some time this day at Old Faithful, but it was just then approaching noon and I preferred to save that for somewhat later in the afternoon.

We stopped briefly at Kepler Cascade (briefly because it started raining), then headed east toward West Thumb. Still raining when we reached that, so we kept going, eventually stopping at Lake Lodge. There we spent awhile hanging out in the main lodge room and shopping in the gift store before wandering into the cafeteria for lunch. When we finished that up (and made another stop at the general/Hamilton store, just to compare the merchandise) the rain had stopped, so we headed back toward Old Faithful.
---
---
---
[ Follow Ups ] [ Post Followup ] [ Yellowstone Up Close and Personal Chat Page Version 1.60 ] [ FAQ ]