Day 8 continued
---
[ Follow Ups ] [ Post Followup ] [ Yellowstone Up Close and Personal Chat Page Version 1.60 ] [ FAQ ]
---
Posted by Rick (71.72.159.41) on 19:19:11 07/22/14
In Reply to: Day 8 continued posted by Rick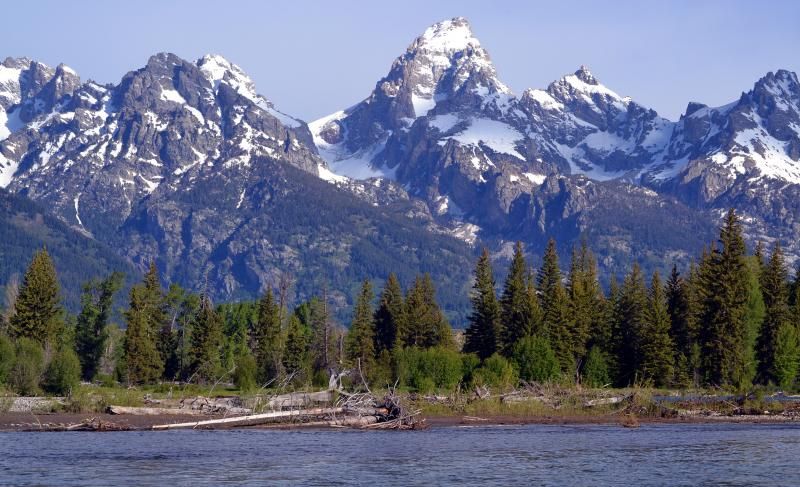 A final view of the peaks from the river. Our guide had told us that our best chances for spotting any moose (which along with eagles was our biggest hope) would be in the final stretch, so we all had our eyes peeled. No joy this time around--the moose had all decided to be uncooperative. A fairly small mule deer was standing right on the bank at the take-out spot waiting for us, though, which seemed nicely considerate.

So not the greatest outing for wildlife, but still a nice time overall. The girls (and heck, Mom and I also) got rewarded with a drive up to Signal Mountain Lodge for a hefty breakfast. One thing was for sure, we were setting an all-time record in terms of what we were spending on meals on this trip--most of the time we buy a cooler and some bread and peanut butter and crackers and do a number of lunches at picnic areas, with an occasional restaurant thrown in--but on this trip, the cold and rainy weather conspired to make sure that our rear ends never graced a picnic table even once. Oh well, it's a vacation, right?

Back to Colter Bay to rest up, download photos, and generally chill for a while. More later......
---
AHA! - Dan M. 10:19:13 07/24/14 (6)

Er..... - Rick 11:56:14 07/24/14 (5)

Well... - Dan M. 21:55:32 07/24/14 (4)

Ah - Rick 06:59:39 07/25/14 (3)
---
---
[ Follow Ups ] [ Post Followup ] [ Yellowstone Up Close and Personal Chat Page Version 1.60 ] [ FAQ ]