Trip Report: Day 9
---
[ Follow Ups ] [ Post Followup ] [ Yellowstone Up Close and Personal Chat Page Version 1.60 ] [ FAQ ]
---
Posted by Rick (71.72.159.41) on 05:53:20 07/29/14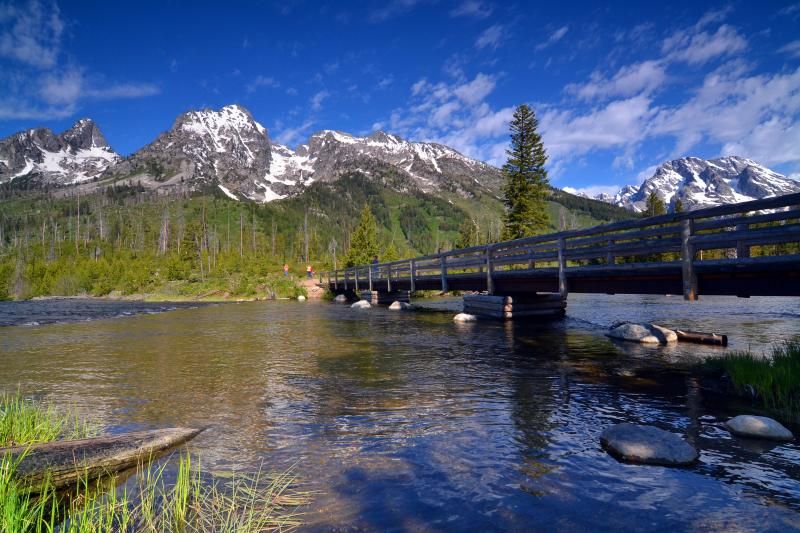 June 21

Woke up to a nice sunny morning. Decision time. This was the morning that all through the trip planning I intended us to do a lengthier hike than any other, and throughout all of it I planned that hike to be up into Cascade Canyon. However, as the date of our trip departure drew nearer and my health wasn't improving as fast as I liked, I started putting a couple of back-up trails in my mind.

Even throughout the trip I had been waffling on this--one day I felt reasonably okay and figured we'd do the canyon, the next I'd feel lousy and think otherwise. The night before we had done the Lakeshore Trail here at Colter Bay--a couple of miles, nearly entirely flat, really little more than a pleasant stroll--and at the end of it I was frankly worn out. That, along with a couple of other "issues" that evening, made me think the Cascade Canyon idea was a lost cause, and I was fairly set on heading up the trail on the east side of Leigh Lake this morning. Also mostly flat, and while it wouldn't have the grandeur of Cascade Canyon, it would give some great views of Mt. Moran.

But a new morning and a healthy dash of stubbornness can turn the tide. I felt pretty good as we got ready in the cabin, and it was a pretty morning, and I decided I hadn't driven all of us all the way out here just to not even try. I really wanted the three girls to get a taste of getting up into the mountains, even if just by a little bit, rather than just looking at them. I figured I could force myself to walk at a snail's pace if necessary--not like we were in any hurry. "Give me Cascade Canyon, or give me death" became my motto for the day.

Along the way to Jenny Lake we stopped for a little while at String Lake, just because I like the place. I especially like the bridge across the outlet at the south end.
---
---
---
[ Follow Ups ] [ Post Followup ] [ Yellowstone Up Close and Personal Chat Page Version 1.60 ] [ FAQ ]