Trip Report: Day 4 continued
---
[ Follow Ups ] [ Post Followup ] [ Yellowstone Up Close and Personal Chat Page Version 1.60 ] [ FAQ ]
---
Posted by Rick (71.72.159.41) on 08:18:44 07/12/14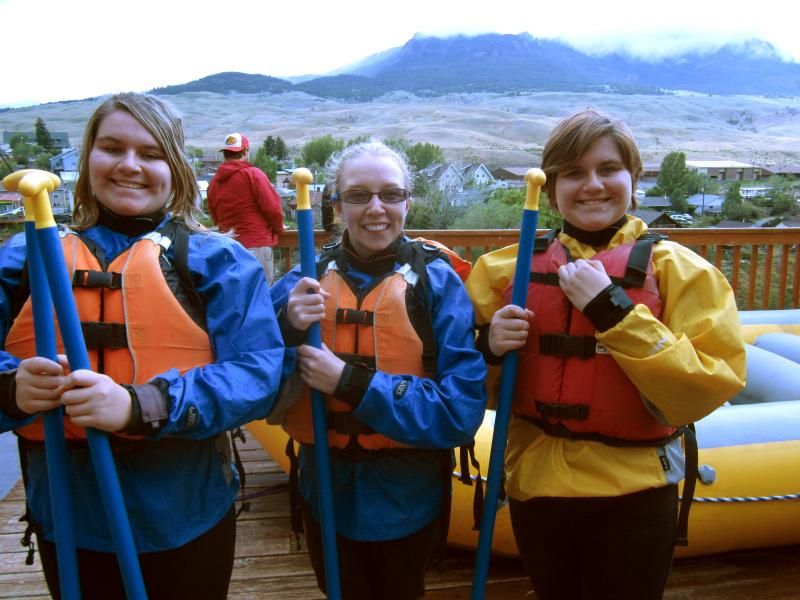 Driving south toward Gardiner, we could see great masses of clouds ahead, and the car's thermometer said the temperature outside was dropping with each mile. So much for the nice morning weather.
We pulled into Gardiner somewhat early for the rafting trip, which gave me time to get checked into our cabin (which was only a hundred yards or so up the main road through town from the rafting company) and get our stuff out of the car. In the meantime the girls had an hour or so to go see what shops Gardiner offered that might tickle their fancy in our time here. They returned a little earlier than planned, mostly due to a persistent rain shower.
As we got ready for rafting, there were intermittent sprinkles but the heavier rain seemed to have gone away for a bit. Bit of a breeze, though, and the temperature was in the mid-to-upper 40s. Brrrr. Of course, the river water was going to be cold anyway, but still.
The outing was a good time. I'd never rafted up here before (did a trip on the Snake south of Jackson back in '89 when I worked in Yellowstone), and it was pretty cool. Nothing real powerful in terms of rapids--mostly 2's and maybe a couple of 3's--but we got plenty wet and got bounced around a good bit, which made the girls happy. (Mom was sitting this one out back in the cabin, incidentally. We shan't repeat her response about the possibility of her going whitewater rafting!) It was chilly, but the wet suits the company provided kept the worst of the cold away--except for the hands and feet, which of course were uncovered. This shot is after we returned from the outing. Autumn thought the colored outfits made us look like the crew of the Enterprise--I told her the S.S. Minnow was more like it.
---
---
---
[ Follow Ups ] [ Post Followup ] [ Yellowstone Up Close and Personal Chat Page Version 1.60 ] [ FAQ ]