Day 7 continued
---
[ Follow Ups ] [ Post Followup ] [ Yellowstone Up Close and Personal Chat Page Version 1.60 ] [ FAQ ]
---
Posted by Rick (71.72.159.41) on 16:05:57 07/20/14
In Reply to: Day 7 continued posted by Rick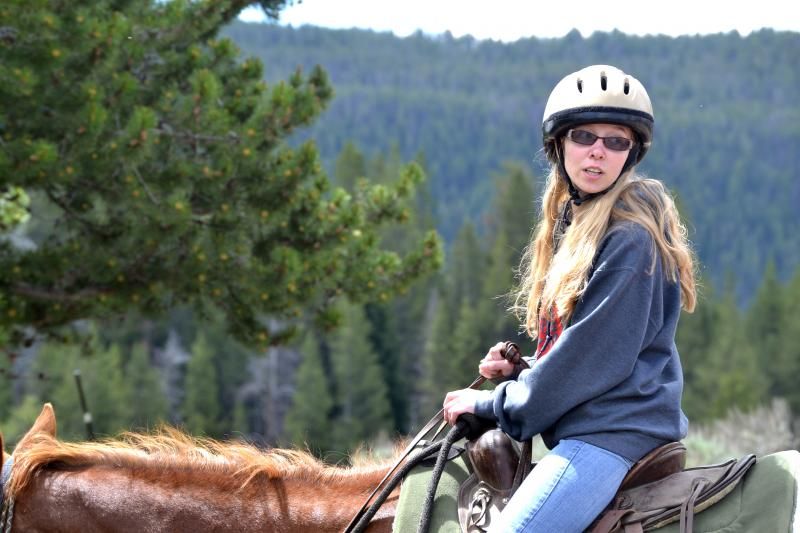 And Lissa's mount was Linda.

I don't have any pictures of the actual ride, because hey, Rick don't do horsies. They all came back seeming to have enjoyed the ride a lot (Lissa especially is a big horse fan, and would have cheerfully brought Linda home with her if we could have somehow strapped her to the top of the car). It was a much smaller group than the ride Autumn and Madeline did at Roosevelt three years ago--on that occasion there were probably 20 people or so, but here there was just one other group of three, a mother and her two daughters. So it was an all-girls outing. Where exactly they went I'm not sure--the website for Jackson Lake Lodge talks about spending part of the time in the Willow Flats area, but I doubt they did that on this ride because I'm pretty sure most of that area was closed because of roaming ravenous bears. All I know is that at some point they caught a view of the Snake River, and at another point they saw a moose in the distance. That turned out to be the only moose any of us saw on the trip, but hey, in my book, if anybody in the group sees a critter, it counts for everyone in the group.

While they were out on the ride (a couple hours or so), Mom and I hung out some more in the lodge. I thought about running back up to Colter Bay to see if we could check into our cabin, but since it was barely after noon I figured that would probably be a waste of time. So, some time to just chill. One bright moment came when I picked up a copy of the Jackson newspaper and saw a story that access to Schwabacher's Landing was open again as of that day--a big deal for me at least, since that is probably my favorite viewpoint for sunrises and sunsets in the Tetons. The latest report I'd heard before leaving Ohio was that the spot would be closed throughout June, so this was a surprise. I knew where we'd be spending a good part of the evening now.
---
---
---
[ Follow Ups ] [ Post Followup ] [ Yellowstone Up Close and Personal Chat Page Version 1.60 ] [ FAQ ]