Day 7 continued
---
[ Follow Ups ] [ Post Followup ] [ Yellowstone Up Close and Personal Chat Page Version 1.60 ] [ FAQ ]
---
Posted by Rick (71.72.159.41) on 16:18:03 07/20/14
In Reply to: Day 7 continued posted by Rick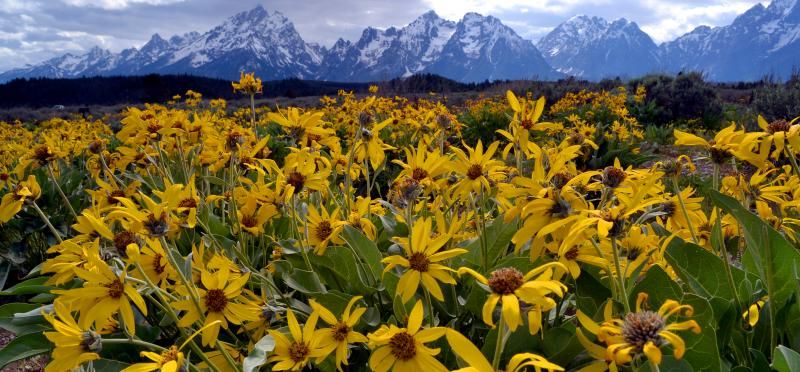 When the girls arrived back from the ride and we were all reunited (no fatalities!), we spent a little while just driving aimlessly in the immediate area between Jackson Lake Lodge and Colter Bay Village. We stopped when I spotted this big bunch of blooms at a parking area (not sure which one). I'd bought a new wide-angle lens months earlier mainly with the intent of using it on this trip (a Tokina 11-16mm), and so far it had seen precious little use. This seemed like a good place to practice, although of course mid-afternoon is the single worst time of day to try to shoot anything scenic--especially the Tetons to the west, ha. Whatever, I'm stubborn.

I've also been playing at times with a GND filter, which I use just as inappropriately as I do the lens--rather than a tripod for the camera and a filter holder for the filter, I just hand-hold everything and experiment. For this shot, I'm not even looking through the viewfinder--instead, I'm holding the camera down low across the flowers and doing my best to aim it, while at the same time holding the filter in front of the lens with the other hand. Sometimes a little tricky to keep things level that way, and you will most assuredly NOT find this "technique" recommended in any literature, but hey, it works for me. Well, sometimes, anyway.

After this we made our way to Colter Bay. Our cabin was ready so we moved in. We got one of the two-bedroom units, which the girls thought was cool since the three of them got their own room away from me and Mom. First time I've ever stayed there--a little on the "rustic" side, and certainly not cheap, but it served our purposes. We settled in to rest up for the evening.

More later.......
---
---
---
[ Follow Ups ] [ Post Followup ] [ Yellowstone Up Close and Personal Chat Page Version 1.60 ] [ FAQ ]