Day 8 continued
---
[ Follow Ups ] [ Post Followup ] [ Yellowstone Up Close and Personal Chat Page Version 1.60 ] [ FAQ ]
---
Posted by Rick (71.72.159.41) on 15:01:59 07/26/14
In Reply to: Day 8 continued posted by Rick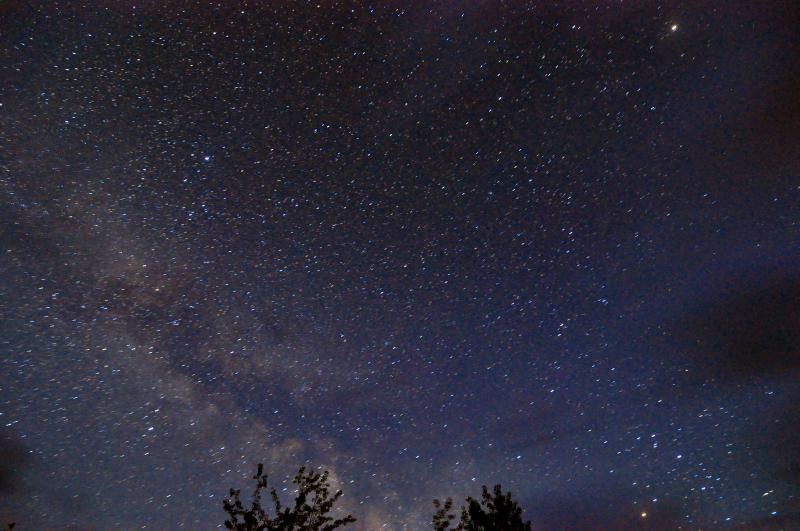 We drove back to Colter Bay. Mom, Autumn and Madeline more or less got ready for bed, while Lissa and I prepared to head back out for a try at some night photography. We ended up back at the Oxbow Bend parking lot.

Our session was what I'd call "semi-successful." Remember my lament in the last post about wanting just a single cloud or two? Well, here they came--what was a cloud-free sky leaving Colter Bay was starting to fill up with some to the west as we set up our equipment. We would be sharing one lens, the Tokina 11-16mm I bought last winter, as it was the only one we had between us that was wide enough and fast enough (a constant 2.8 aperture) to accomplish what we were trying to do.

We popped the lens on Lissa's camera first and fired off a number of frames, some of them at 30 seconds and some going as long as a minute with her holding the shutter button down manually with her finger while I counted off the seconds.

It was really a cool experience, out there under the starry sky with the sounds of the nearby river in the background. A couple of times we heard some fairly loud splashing down below us, which made us suspect a moose might be moseying around down there. At first our only difficulty was the occasional car that came and interrupted an in-progress exposure with its headlights.

This shot is facing essentially east. The clouds were already starting to take us over, although we really didn't realize at the time how quickly it was happening. The Milky Way was obligingly rising in front of us, although the sky to the northwest was staying stubbornly light longer than I wished.
---
---
---
[ Follow Ups ] [ Post Followup ] [ Yellowstone Up Close and Personal Chat Page Version 1.60 ] [ FAQ ]