Day 8 concluded
---
[ Follow Ups ] [ Post Followup ] [ Yellowstone Up Close and Personal Chat Page Version 1.60 ] [ FAQ ]
---
Posted by Rick (71.72.159.41) on 15:13:34 07/26/14
In Reply to: Day 8 continued posted by Rick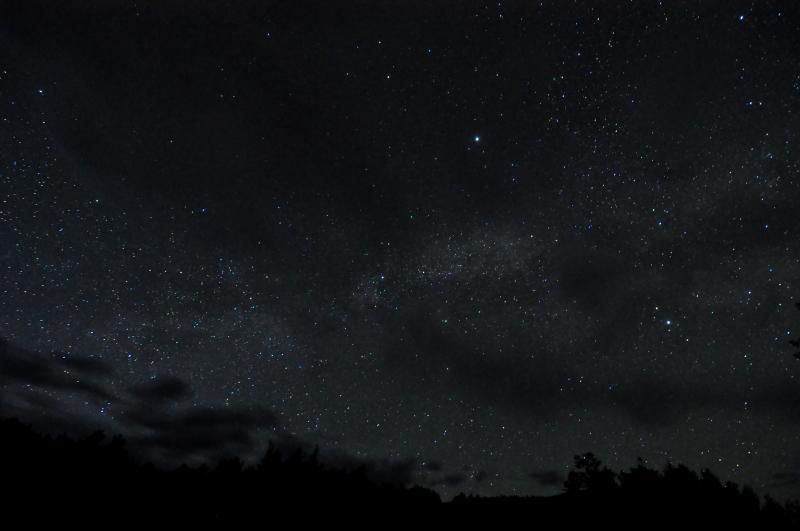 This shot is swung a bit around to the north. You can see that the clouds were continuing to encroach on us, although I kind of like the look of them in this shot. Almost gives it a 3-D sort of look.

About this time we got ready to switch the lens from Lissa's camera to mine, but that never happened. We knew that the clouds had continued to move in some, but it had apparently been quite a few minutes since either of us had looked behind us to the west. A sudden, silent flash of light that lit up everything for a split second made us both jump--it seemed like nothing more than as if someone had snuck up on us and taken our picture with a flash. We turned around and saw that entire half of the sky was just black with clouds that were moving fast toward us--and after a few seconds, a rumble of thunder reached us. That explained the flash of light--at least we weren't being stalked by camera-wielding moose paparazzi.

Discretion won out--we quickly tore down the equipment and got it back in the car, then headed down the road back to Colter Bay. We hadn't driven more than a mile when we drove into a downpour that lasted less than a minute. By the time we pulled up to the cabin and got out of the car, not only had the rain stopped but all of the clouds had passed by--the sky was again completely clear. Obviously, clouds hate me. So, I never did get a single star shot that night from the Tetons, but Lissa got a few good ones--and hey, it was a fun outing. Bedtime.

More later....
---
---
---
[ Follow Ups ] [ Post Followup ] [ Yellowstone Up Close and Personal Chat Page Version 1.60 ] [ FAQ ]